A Reader's Guide
Preface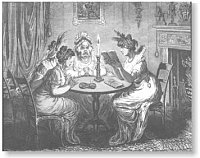 You begin to study English literature. You want to read, but you find yourself confronted with a multitude of literary works - in the library, in bookshops - and you do not know where to start and what to choose. The following list is supposed to give you some orientation. We have concentrated on the literature of the British Isles, that is, England, Scotland, Wales, and Ireland, since this is the field covered by our teaching. The new literatures in English, that is, contemporary literature from India, Asia, Africa, New Zealand, Australia, is not included. You can find suggestions in Christa Jansohn, Dieter Mehl, Hans Bungert, Was sollen Anglisten lesen? Berlin: Erich Schmidt Verlag 1995. There is a separate list of American literature on the web-site http://www.amerikanistik.uni-halle.de/alit under the link "empfohlene Literatur".
You are certainly not expected to read all the works which we have listed. But you may select texts for the private reading which should accompany your course over the years, and you can choose texts for special topics in your exams. Of course, you may read texts which are not included in this list, (particularly in the 20th century the list can only be selective), but if you follow the selection made here you will become familiar with a representative body of works that will also give you an idea of the development of English literature from its beginnings to the present. It will certainly be useful if you complement your reading of primary texts with relevant chapters from literary histories, for example David Daiches, A Critical History of English Literature. Rev. ed. 2 vols. London: Mandarin (21969), reprint 1996; Bernhard Fabian, et al., (eds.), Englische Literatur. 2 vols. München: dtv 31997; Ansgar Nünning (ed.), Eine andere Geschichte der englischen Literatur: Epochen, Gattungen und Teilgebiete im Überblick. Trier: Wissenschaftlicher Verlag Trier 1996; Andrew Sanders, The Short Oxford History of English Literature. Oxford: Clarendon Press 1994; Hans Ulrich Seeber (ed.), Englische Literaturgeschichte. Stuttgart/Weimar: Metzler 31999.
You will find that a great number of important poems, essays, and short stories, some dramas, and selections from other texts are included in The Norton Anthology of English Literature. The two volumes of this comprehensive collection may be a good investment when you begin to build up a small, useful library for yourself.
Works marked with ** are strongly recommended, those with * are recommended for reading.
Works marked with in: The Norton Anthology of English Literaturecan be found in: M. H. Abrams (ed.), The Norton Anthology of English Literature. New York/London: W.W. Norton 51986, or 61993.
Works marked with in: Moderne englische Lyrik are collected in: Erzgräber, W. and U. Knoedgen (eds.), Moderne englische Lyrik. Stuttgart: Reclam 31996.
This Reader`s Guide is also available as a .pdf file or as a Word document:
Download "A Reader'sGuide.pdf"
Reader's Guide.pdf (150.8 KB) vom 08.12.2008
Download "A Reader'sGuide.doc"
Reader's Guide.doc (243 KB) vom 08.12.2008
---
---