A Reader's Guide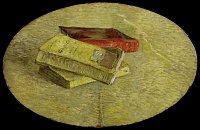 Vincent van Gogh - Drie boeken
As you begin to study English Literature and Culture, you want to read, but you find yourself confronted with a multitude of works – in the library, in bookshops, and online – and you do not know where to start and what to choose. The following lists are supposed to give you some orientation. Our Reader's Guide to Literature in English lists important works of literature of the British Isles, that is, England, Scotland, Wales, and Ireland, as well as so called New English Literatures (Anglophone literatures of Asia, Africa, the Caribbean, Oceania, and Canada), including postcolonial and Commonwealth literature. The Reader's Guide to Cultural Studies and the History of Ideas offers a selection of eminent scholarly and essayistic works on culture, society, philosophy, politics, and media from the Early Modern period to the present.
You are certainly not expected to read all the works which we have listed here, although you should be familiar with the majority of them in terms of content and context. You may select texts for private reading which should accompany your courses over the years, and you may find the list helpful when you are choosing texts for special topics in your academic writing and final thesis. Of course, you may read texts which are not included in this list – particularly in the 20th and 21st centuries the list can only be selective. But if you follow the suggestions made here you will become familiar with a representative body of works that will give you an idea of the development of literature in English as well as of the intellectual history (Ideengeschichte) of Anglophone writing.
It will certainly be useful if you complement your reading of primary texts with relevant chapters from literary histories, for example Ansgar Nünning (ed.). Eine andere Geschichte der englischen Literatur: Epochen, Gattungen und Teilgebiete im Überblick. Wissenschaftlicher Verlag Trier, 2004; Andrew Sanders. The Short Oxford History of English Literature. Clarendon Press, 1994; Hans Ulrich Seeber (ed.). Englische Literaturgeschichte. Metzler, 2012; and Dermot Cavanagh et al. The Edinburgh Introduction to Studying English Literature. Edinburgh University Press, 2014.
Useful introductions to key topics and concerns of cultural studies are provided by the following publications: Aleida Assmann. Introduction to Cultural Studies. Erich Schmidt Verlag 2012; John McCormick. Contemporary Britain. Palgrave 2012; Michael Higgins (ed.). The Cambridge Companion to Modern British Culture. Cambridge University Press, 2010. Mike Storry and Peter Childs (eds). British Cultural Identities. Routledge, 2017.
You will find that a great number of important poems, essays, and short stories, some dramas, and selections from other texts are included in The Norton Anthology of English Literature. The two volumes of this comprehensive collection may be a good investment when you begin to build up a small, useful library for yourself.
The Reader's Guides are available in pdf for download here:
Reader's Guide to Literature in English
A Readers Guide to Literature in English_2020.pdf (80.7 KB) vom 27.02.2020
Reader's Guide to Cultural Studies and the History of Ideas
A Readers Guide to Cultural Studies and the History of Ideas_2020.pdf (47 KB) vom 27.02.2020
---
---